Cottage Village "Alexino", located in a beautiful area of the Moscow region near the Istra reservoir is expecting us for the 9th time.
Cosiness, warmth, comfort, and most importantly - New Year atmosphere. Comfortable wooden cottages in which we will live and dance, spruce forest, skating rink, ski run and playground, sauna and pool! We are going to live in 3 cottages. There is a small distance between them (5-6 minutes) on foot, which will provide daily walks in the fresh air and contemplation of winter landscapes.
You can use sports equipment (for an additional fee): skis, ice, ice skates, etc. There are also: billiards, table tennis, car parking.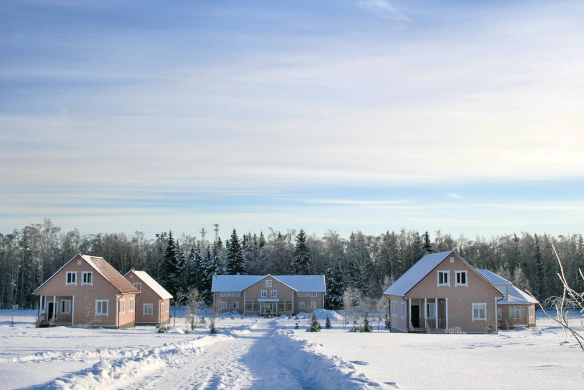 Read about accommodation and food here...
Coming by train from Moscow:

You may come from Moscow by train of a Riga direction from Rijskiy railway station or small stations like Dmitrovskaya or Tushinskaya (named like metro stations).
The best train departs from Rijskiy railway station at 16:20 and arrive at Istra station at 17:36. It is 10 km futher on by Taxi.
You may group with somebody, write at our Facebook group to find partners.
Coming byTaxi.

You may use Uber app to call a taxi from anywhere to the venue (set the destination Alexino Istra Cotages, Istra district). There is also Russian app Yandex-Taxi to get the cheapest price: Android and iOS.
Taxi in Istra district: +7(498) 314-44-44, +7(929) 596-22-98, +7(49831) 4-44-13, +7(498) 313-35-55

Trains timetable (from Rijskiy railway station)

Проезд на автомобиле:
GPS: 55°56'48.74″ N (55.946872), 37°0'14.09″ E (37.003913)

Interactive map: